Musical Director
Mauro Farrugia B.A. (Hons.) Music Comp. (Melit., 2011), P.G.C.E. Music (Melit., 2012)

Musical Director to The New Choral Singers since January 2017, Mauro Farrugia is a graduated Composer, Orchestrator, Conductor, Educator, Freelance Trombone & Euphonium player, and Chorister. Born into a highly musical family in May 1989, he is involved in the Classical, Choral, Contemporary, Chamber, Jazz, Pop, and Ska music scenes of his native Island, Malta.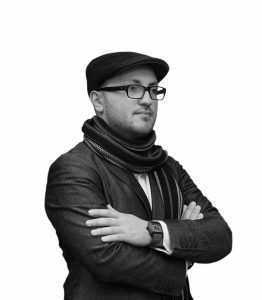 From a very young age, Mauro had always shown a keen interest in the rich musical surroundings as he grew up. Beginning with his first music lessons from his father, Alfred, he went on to obtain a First Class Bachelor of Arts (Honours) Degree in Music Composition (Melitensis, May 2011). This Degree was under the tuition of Co-Orinator Dr. John Galea, Profs. D. Buhagiar, Profs. M. Laus, Dr. F. Aquilina, Dr. Ph. Ciantar, Dr. A. Pace, Dr. R. Pace, R. Zahra and G. Zammit. During the final year of this degree, Mauro was selected to attend a symposium on Contemporary Mediterranean Music at the conservatorio Antonio Scontrino in Trapani, Sicily (March 2011). In May 2012 (Melitensis), he finished reading a pedagogic Postgraduate Certificate in the Education of Music Studies (P.G.C.E.) under tuition of Co-ordinator Ms. M. Azzopardi Barbieri, Dr. M. Cassar (E.O.), and Ms. C. Massa (H.O.D.).
Currently Mauro is a full-time regular music teacher with the Maltese Department of Education and holds the position of director of music with The New Choral Singers. He is also the assistant musical director of the Queen Victoria Concert Band of Żurrieq, whilst serving as coordinator and main tutor of the Queen Victoria School of Music, in the same town.
As a composer Mauro is emerging as one of the leading talents in Malta. His works have been internationally acclaimed and have won prestigious competitions such as the Orchestral Masters Vol. 2. This competition granted him a publishing deal with ABLAZE Records (U.S.A.) as a result of which the works are being distributed internationally through Naxos of America, iTunes, AMAZON MP3, Albany Music Distributors, Super D One Stop, BBC in Britain, ABC in Australia, CBC in Canada, FANFARE Magazine and AMERICAN RECORD GUIDE. His works are performed on regular basis by the BRNO Philharmonic (Czech Republic), Malta Philharmonic Orchestra (M.P.O.), The New Choral Singers (TNCS), Big Band Brothers (BBB), Malta Association for Contemporary Music (MACM), CrossBones Trombone Quartet, Collegium Musicum Choir, Schola Cantorum Jubilate, The RIFFFS, CrossWalk, Queen Victoria Band, King's Own Band, individual internationally renowned freelance artists such as Gjorgi Cincievski, Tricia Dawn Williams, Aulos Duo and a handful of other local concert bands. A wide variety of styles reflects the composer's interest in Orchestral, Choral, Concert Band, Chamber, Solo and Vocal works. With this virtuosity it has been easy to find Mauro's music as featured in the Orchestral Masters Vol.2 (2014), International Spring Orchestra Festival (2013), Malta Arts Festival (BBB, 2014, 2013, 2012, 2011), Independence Day Concert (MPO, 2011), Young Composer's Concert (MPO, 2011), Rockestra (MPO, 2012, 2011), Contemporary Music & Children (MACM, 2011), recitals by local artists, and various local concert band occasions throughout the years.
As a performer Mauro performed in various prestigious locations:
2012 London Olympics (London, U.K.: August 2012)
Festivals (Berlin, Germany & Czech Republic: July 2012)
Royal Albert Hall (London, U.K.: October 2011)
Consevartorio A. Scontrino (Trapani, Sicily: March 2011), Heidelberg (Germany: June 2007), Pisa (Italy: March 2008)
Istanbul (Turkey: August 2010)
In Malta in all the major concert halls including Teatru Manoel, Mediterranean Conference Centre, St. James Cavalier, Sir Temi Żammit, Catholic Institute, Aula Magna, Teatru Orpheum etc.
As a freelance performer Farrugia is engaged as a Bass Trombonist with the Malta Youth Orchestra (MYO) since 2011, Big Band Brothers (BBB) since May 2009 and on part-time basis with the Malta Philharmonic Orchestra (MPO) since 2012, where he had the opportunity to perform under the baton of world class conductors and composers such as Karl Jenkins, Wayne Marshall, Steve Mercurio & Peter Stark. Concurrently Mauro holds the position of principal Trombone with CrossWalk (since September 2011). Mauro is also the principal Euphonium player with: Queen Victoria Band (Since July 1998) and various other local concert bands. His services as a freelance musician included:
The RIFFFS (April 2012 till September 2012)
CrossBones Trombone Quartet (Bass Trombonist from January 2010 till December 2011)
Junior College Orchestra (2006 till 2010)
Ziguzajg Valletta flash mobs (August 2012 & November 2011).
As a chorister he forms part of the Mediterranean Voices (since 2010), Collegium Musicum (since 2009) and University Vocal Ensemble (since late 2008).
Mauro is still furthering his studies in each particular field whilst at the same time widening his research into various musical genres and styles guided by the philosophy of Rachmaninoff, "Music is enough for a lifetime, but a lifetime is not enough for music…"